Alton Adams
Roy Anduze
Benjamin Claude
Warren Brown
Bertha Boschulte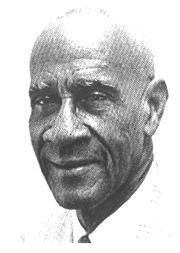 ADAMS, ALTON AUGUSTUS, SR. Musician, Composer, Educator, Entrepreneur. St. Thomas 1889 - 1987
The life of Alton Augustus Adams, Sr., has been described by his contemporaries as an "era" of its own. A self-educated man, he charted his own life as a distinguished bandmaster, composer, musician, journalist, educator, and hotelier.The son of Jacob Henry and Petrina Dinzey Adams, Alton was born on November 4, 1889, during the Danish owner ship of St. Thomas. He received his early education at the Moravian Town School.As a young boy, he showed a fascination with music. He later mastered the flute, which became his favorite instrument. Convinced that music was his major interest, he decided to pursue a music education program and enrolled in correspondence courses in harmony and counterpoint offered by the University of Pennsylvania. He also studied at the School of Music Theory, Carnegie Hall, New York, and the Chicago University Extension Conservatory, Chicago, Illinois by correspondence. He received a bachelor's degree with emphasis on music history, esthetics, and public school music. During these studies, he was greatly influenced by the noted organist and composer Hugh A. Clarke. At age fourteen, Adams organized his own band and when he was twenty-one founded the Adams Juvenile Band. This group made history years later when, under President Woodrow Wilson, it was inducted into the United States Navy with bandmaster Alton Adams as its leader.

Even though Adams did not enjoy the privileges of free education, he recognized the importance of a well-rounded education and the place of music in the curriculum. In 1918 he designed a music curriculum and presented it to the public school system. He was appointed the first music supervisor of St. Thomas (1918-1921). Although not trained as a teacher, Mr. Adams placed teaching in high esteem. In addition as a hotelier, he turned his eighteenth century home into a guest house. He was a member of the V.I. Hotel Association and served as its energetic chairman for six years (1952-1958). In recognition of his contribution to the hotel industry, the St. Thomas St. John Hotel Association annually awards the "Alton A. Adams Scholarship" to a deserving resident. Adams also hosted a radio program, "Concert Hall," on which he entertained listeners with classical music. On May 7, 1978, Adams, almost ninety years old, travelled to Fisk University to accept an honorary Doctorate of Humane Letters. He also received the Virgin Islands Medal of Honor from the Sixteenth Legislature in 1983.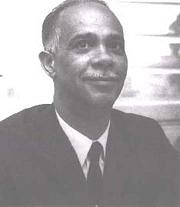 ANDUZE, ROY ADELBERT Physician St. Thomas 1913 -
In 1949 a medical milestone was achieved in the Virgin Islands when Dr. Roy Adelbert Anduze removed the small intestine of a patient suffering from gangrene. This surgery, the first of its kind for the Virgin Islands, was also one of only five such cases at that time in the United States. Dr. Anduze received national recognition for his surgical ability. The formal training which served to develop his potential was initially started at the local level where he received his elementary and junior high school education. He later completed high school in Washington, D.C., at Dunbar High School, where he excelled and graduated in 1932 as a member of the National Honor Society, president of his graduating class, and valedictorian. He subsequently entered Howard University and earned a bachelor's degree in 1935, which was followed by a medical degree from this same institution in 1939.After working as Municipal Physician for St. Thomas for four years (1942-1946) he returned to Howard University for one year where he was named Fellow in Surgery by Dr. Charles Drew, the chief surgeon and chief of staff at Freedman's Hospital. When he returned home in 1947, he was named Assistant Commissioner of Health for the Virgin Islands and also Chief Municipal Physician for the District of St. Croix.

ln 1952, Dr. Anduze was appointed Commissioner of Health and served until 1956, when he resigned the post. His action was prompted by his displeasure with the changes in the local government brought about by the Revised Organic Act of 1954. As Commissioner of Health, Dr. Anduze replaced three health facilities which were without modern sterilization, limited laboratory facilities, and inadequately staffed, with two modern 130 bed hospitals equipped to meet modern standards of patient care. Two new ten-million dollar hospitals were also in process. Health clinics for St. John and Frederiksted, St. Croix, were established.His contribution in surgery, public health, and health care in general have earned him outstanding recognition. In 1964, Howard University awarded him the Alumni Achievement Award for distinguished service in surgery and hospital administration. On December 12, 1964, he was named Fellow of the New York Academy of Science, an award limited to a few who have done outstanding work toward the advancement of science. He is listed by the American Association of Public Health Physicians as one of the first 500 charter members of this association. In 1953, he reached one of the highest goals aspired to by surgeons, when he was elected to the rank of Fellow in the International College of Surgeons in recognition of his technical skills as a surgeon.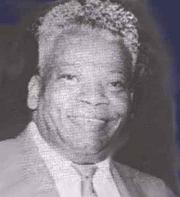 BENJAMIN, CLAUDE A. Songwriter St. Croix 1907 - 1989
The success of Claude A. Benjamin, popularly known as "Bennie Benjamin," is of special significance to Virgin Islanders as he is the first native-born to become a top ranking songwriter in the United States. In achieving success in a field which, in the 1940's and 1950's, was considered one of the most difficult to enter, he stands as a fitting example for young Virgin Islanders to emulate. Born on November 4, 1907, in Christiansted, St. Croix, Danish West Indies, his early ambition was to enter the ministry. Because his parents could not finance his theological training he opted to pursue the arts of cabinet making and tailoring. He left for New York City in 1927. In this big city he was not distracted from his life's goal of becoming a songwriter. However, his self-confidence and courage strengthened him to keep on striving. In 1941 he published his first song, "I Don't Want to Set the World on Fire." It was an instant success, and as of 1989, it had been recorded in 135 versions.

Of his numerous compositions, several were written as theme songs for movies. These include: "Fun and Fancy Free" and "Melody Time," both of which were composed for Walt Disney productions. In 1964, he wrote "Anyone Can Fall in Love" for an Elvis Presley movie. Six of his songs have been recorded in an album by the recording star, Nina Simone. His first Song, "I Don't Want to Set the World on Fire," won him the top Writer's Award for that year. In 1946, he received the same honor, this time for three of his songs, "Oh, What It Seemed to Be," "Surrender," and "Rumors Are Flying." He has several other big song hits to his credit including "When the Lights Go On Again" and "Wheel of Fortune." Between 1941 and 1955 he was credited with almost fifty popularly known songs. He was inducted into the Songwriter's Guild Hall of Fame in April 1984.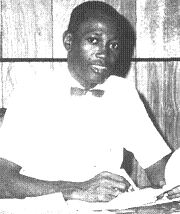 BROWN, WARREN ELSON Political Leader St. Thomas 1923 - 1967
Former executive secretary of the Virgin Islands Legislature and secretary of the local Democratic Party, Warren Brown was a powerful behind-the-scenes figure in the volatile politics of the Virgin Islands. He was a graduate of Charlotte Amalie High School in 1943 and of New York University, from which he received a bachelor's degree in economics cum laude in 1952. Regarded as one of the territory's most astute political scientists, his political involvement began in the 1950's. By that time the islands' first political party, the Progressive Guide, had weakened. A new party, the Unity Party, soon replaced the Guide. Warren E. Brown was one of its founders and played an important role in its advancement. As president of the Unity Party, he proved himself a leader of high quality. An articulate and eloquent speaker, he made history when he delivered the keynote address in November, 1956, at the Unity Party pre-election convention. In this address he vigorously denounced the obvious lack of concern of the executive branch towards the needs of the people. He received a standing ovation for his blunt attack on the lack of progress in the territory.

He was later described by Earl B. Ottley in his book, Trials and Triumphs, the Long Road to a Middle Class Society in the U.S. Virgin Islands as: "A gifted writer and speech-maker, he had few equals as a Master of Ceremonies--not only at party conclaves but on the numerous occasions at which he addressed civic groups.A dedicated Democrat, he served the party in several key positions: secretary from 1963-1968, secretary to the Territorial Committee and secretary to the Virgin Islands Constitutional Convention 1964, and secretary to the Virgin Islands Senate Reapportionment Committee. He held membership in the American Economics Society, the Accounts Club, and was a master mason of the National Grand Orient, A. and A. Scottish Rite of Free Mason. Honors awarded him include American and Asiatic Pacific Theater Medals, Victory Medals, and two Overseas Bars.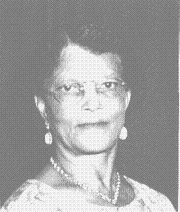 BOSCHULTE, BERTHA C. Educator, Statistician, Legislator St. Thomas 1906 -
Born on March 30, 1906, on St. Thomas, Danish West Indies, she has been honored by several agencies for her distinguished services. While contributing to her community in several positions, Bertha C. Boschulte is best known as a dedicated and proficient educator. She began her teaching career in 1924 and terminated it in 1949, completing a span of twenty-five years to this profession. During this period she served as classroom teacher on both elementary and secondary levels, and as principal of Charlotte Amalie High School. Working closely with teachers in a supervisory role she recognized their need for professional growth and directed her efforts in planning and organizing the first St. Thomas Teacher's Institute. The St. Thomas Evening School was her next goal which she organized to assist teachers who were unable to participate in the St. Thomas Institute.

Named director of Statistical Services in 1952 and later director of the Division of Vital Records and Statistical Services, she next served from 1955-57 as director of General Services in the Department of Health. A deep interest in public affairs led her to make a successful bid for a seat in the Legislature, and in 1964 she was elected to the Senate of the Virgin Islands, where she served for one term of two years.Miss Boschulte was later elected to the Virgin Islands Board of Education in 1970 and then elected chairman of the board. Through this position she automatically became a member of several other boards and commissions including the Board of Trustees of the College of the Virgin Islands, now University of the Virgin Islands, and the Law Enforcement Commission.One of the few who received formal education in 1929, Miss Boschulte is a graduate of Hampton Institute, Hampton, Virginia, from which she received a bachelor's degree with majors in English and mathematics. In 1945, she completed requirements for a master's degree at Columbia University, with majors in organization and administration of secondary schools.

Home Next