Albert Daniel
Ansetta Chabert
Morris Castro
Charles Emanuel
Melvin Evans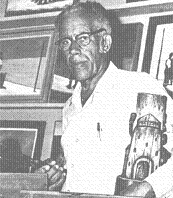 DANIEL, ALBERT EDWARD Artist St. Thomas 1897 -1982
Albert Edward Daniel's accomplishments and contributions as an artist and a sculptor are an inspiration to the young artists of the Virgin Islands. While he had no formal training in art, his love for the subject served as his motivating force, and he utilized his time and energies to develop and strengthen his skills. He considered the laboring class a fascinating subject and illustrated working men and women in various cultural settings, i.e., coaling ships, fishing, trading. Describing himself as a "primitive artist," he developed a style of his own in which body form and other characteristics were simple and basic. He painted things as they appeared to him in natural settings. His style, he said, "appeals to some and upsets others. They move some people to anger." He claimed his paintings "were not intended to depict beauty in what some people would like to call lowly rough things of life." Throughout his paintings, he uses a pole as a common thread. He explained the pole as symbolic of the "ascending spirit of God." His sculptures are the most controversial, but he justified them as intended to tell a story, to portray a certain type of life. It was coincidental that he lived in the same house that Camille Pissarro, the Impressionist painter, was born in and lived in for a while. His rather limited formal education was obtained at the College of the Sainte Union de Sacre Coeur, a Catholic School of former years which existed in the building presently occupied by the Department of Education, St. Thomas.

His works have been exhibited at local, national, and international galleries, includ ing San Francisco Exposition, Minnesota State Fair, Walker Art Gallery, the Haitian Centenary, Atlanta University Exhibition, Atti Henle's Studeo, Christiansted, St. Croix. Locally, many prominent citizens and several agencies own and display his art pieces. In addition, scholars of sociology and history have conducted in-depth studies on his works and discussed their findings in lectures and forums. A listing of some of his works include: Lady,for which he received a medal at the IBM Art Exhibit at the 1939 World's Fair; Portrait of Man,1951; Portrait of a Woman,1949; Market Scene, 1951; The Streetsweeper,1959; Cha Cha Fisherman,1955; Waterfront,1963; The Happy Market Woman,1976; Weary With the March of Time, Going Home,1979; The Thinker, 1979. Two carvings are Joy and Sorrow,1975, and Mass Hysteria, 1975. On June 29, 1975, the Eleventh Legislature of the Virgin Islands honored Daniel with Resolution No. 757 which commended him for his self determination in overcoming financial difficulties and lack of formal art training to become an accomplished artist whose works have been recognized and appreciated on local, national, and international levels. The son of Charles and Lucy Ann Brown Daniel, he was born on May 16,1897, in St. Thomas, Danish West Indies. A dedicated Roman Catholic, he engaged in church activities. On April 29, 1937, he married Agnes Brouwer in Sts. Peter and Paul Church, now the Cathedral. Mrs. Daniel predeceased him in 1976, and he died on June 25, 1982, in St. Thomas.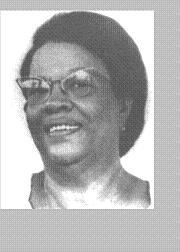 de CHABERT, ANSETTA Entrepreneur St. Croix 1908 - 1976
Disproving the idea of "females" being the weaker sex, Ansetta de Chabert Clarke proved herself capable of single-handedly performing as a business person, as head of a family, as an active political figure, and as a civic leader and church worker. Born on February 11, 1908, on Christiansted, St. Croix, Danish West Indies, she was the daughter of Ernest and Sarah Jeffers Muckle. Her father, one of St. Croix's earlier merchants, operated a family business called "The Little Red Shop." She was close to her father and gained his respect and admiration. It was her close association with this business that subsequently strengthened her interest in the field. Also a skillful fisherman, Ernest Muckle would often leave Ansetta in charge of "The Little Red Shop" while he was away on fishing trips. It was not long before she became adept at operating the store by herself. On July 18, 1929, she married Ralph D. de Chabert who later became an influential force in the community and served in the executive, legislative, and judicial branches of the local government. They made a dynamic team complementing each other. Together they bought several large estates on St. Croix. In the 1940's they bought Rosegate and Olive, a thirty-five acre farm, and turned it into a dairy farm. Later they purchased Estates Jerusalem, Hope, and Blessing. On these estates they expanded their dairy operations. When her husband died in 1955, the responsibilities of the business enterprises and family affairs, including the children's education, became her primary concerns. Single handedly, she continued to acquire and to renovate property. In 1965 she entered into an agreement with Hess Oil, an outstanding business conglomerate, and sold a large tract of land to this company, the capital of which was re-invested into various enterprises. She established a large shopping center, Sunny Isle, and other land developments. These all provided employment for large numbers of persons and revenues for the government.

An active political figure, she was a member of the Democratic Party, serving as treasurer from 1956 to 1964. In this role she doubled as head fund raiser for the party, a task to which she directed all her energies and ideas. She was rewarded for her dedication to the party by being named National Committee Woman from 1967 to 1972. During this period she had the distinct privilege of meeting Vice-President Hubert H. Humphrey and President Lyndon B. Johnson. The field of education was very dear to her and in 1964 she ran for and won a seat on the V.I. Board of Education. She was re-elected in 1967. She enjoyed the privilege of being elected chairman of the board for both terms. Her interest in education preceded her serving on the board. She was known to be a benefactor to several students lacking tuition to continue a college education. She also ran unsuccessfully for legislative office. As a community leader, Mrs. de Chabert was a member of the American Red Cross, St. Croix Community Blood Bank Center, Charles Harwood Memorial Hospital Auxiliary, Caribbean Mental Health Association, Business and Professional Women, Social Welfare Board, and the Citizens Rehabilitation Committee. Her life's efforts were devoted to the further development of the community. Because of this dedication and her good works, she was posthumously honored by the Legislature of the Virgin Islands through Resolution 778, March 1, 1976, which serves as a lasting memorial of her "lifetime of human warmth, noble pursuits and good works throughout the Virgin Islands community." A dedicated Episcopalian, she was also active in church affairs. In 1970 she married Reverend Seymour Clarke, an Anglican priest. She died on January 12, 1976, in St. Croix. Her children are Rita de Chabert Schuster; Shirley de Chabert Highfield; Ralph Andrew de Chabert, M.D.; Austin; and Mario de Chabert.



de CASTRO, MORRIS FIDANQUE Governor Panama 1902 - 1966
Being born in Panama City rather than in the Virgin Islands did not prevent Morris Fidanque de Castro from being documented in local history as the first native Virgin Islander to be named Government Secretary. He was born in Panama City, Panama, on February 5, 1902, while his parents, Mr. and Mrs. David de Castro (Virgin Islanders), visited relatives. The family later moved back to St. Thomas, where Morris was raised. Morris suffered the loss of his mother, Adah, when he was four years old, and he was reared by his aunt, Rachael M. de Castro. As a youth, he attended the local private schools and through his self-improvement plan continued his education by completing several independent studies. His appointment on February 28, 1950 by President Harry S. Truman made him the fifth presidentially appointed governor of the territory. In his inaugural address on March 24, 1950, Mr. de Castro based the success of his administration on the support of Virgin Islanders as he charged them with his famous phrase, "If I fail, you fail; if I succeed, you succeed." With not much more than $3,000,000 as a budget, the new governor concentrated on five areas of development--health, housing, education, roads, and the expansion of the tourist industry. At the end of his four year term, four health centers had been established, the Morris de Castro Health Center on St. John, the Ingeborg Nesbitt Clinic on St. Croix, and the Pearson Garden Clinic and the Knud Knud-Hansen Memorial Hospital on St. Thomas. Ground for the Charlotte Amalie High School was broken. In addition, the Government House on St. Croix was refurbished with replicas of its original furniture donated by the Danish government and presented by their Ambassador Henrik Kaufman.

In tribute to Governor de Castro, the Morris de Castro Chair was established at the University of the Virgin Islands. Funded by the local government, the award (which is the first of its kind at the University) provides full scholarships for scholars of political science who have been previously accredited by an institution of higher learning. Listed among his other citations, awards, and honors are the Pan American citation on September 21, 1965, for his significant contributions to International Understanding; Resolution 1174 approved by the Fourth Virgin Islands Legislature in April 1961, expressing appreciation and confidence in his reappointment as director of the budget; a 1954 Resolution and an original painting by the well-known artist Ira Smith in recognition of his distinguished career as a public servant. He was also the recipient of two medals from the Department of the Interior. On December 16, 1952, he was awarded a Gold Medal for meritorious service and he is believed to have been the only Virgin Islander granted this honor at that date. In 1954 he was presented a Silver Medal for distinguished service. In appreciation of his interest and support of the local Community Chest Drive he was awarded its citation in 1959.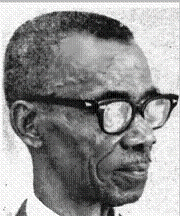 EMANUEL, CHARLES HENRY Educator, Musician St. Croix 1891 - 1979
A man of many talents who was equally competent in each, Charles Henry Emanuel was foremost a teacher. Born on St. Thomas, Danish West Indies, April 7, 1891, to Charles and Lucinda Blyden Emanuel, he devoted over forty-four years of service to the people of St. Croix as an educator. He was one of that committed group of leaders who did not hesitate to use personal funds to purchase educational supplies. For many years he supplemented the music and physical education programs by purchasing instruments and equipment with his own money. As a teacher, he was also one of the first to introduce Black history to his classes. Not only did he develop an awareness of the contributions of local heroes like David H. Jackson, but he taught about outstanding West Indians, Africans, and other Blacks. Always seeking intellectual fulfillment, Mr. Emanuel later directed his energies toward earning a law degree. He enrolled in correspondence courses at Blackstone Institute and subsequently earned a degree. Through the years he amassed one of the largest legal libraries on St. Croix and was most generous in sharing it with students and adults.

Quite an eloquent speaker and highly respected in his community, Mr. Emanuel was often invited as guest speaker at community events.His greatest contribution in music was a collection of little known Virgin Islands spirituals compiled from interactions with senior citizens. A treasury of the local heritage, they are documented in Growing Up on St. Croix, written by Eulalie Rivera. The most popular of these treasures are "Thunder Rollin" and "I Going Home." "Thunder Rollin" gained national publicity when it was rearranged and presented locally and on the mainland by a choir from the Polytechnic Institute (Inter-American University of Puerto Rico) and by other groups. In 1921 he married Chrystalia Farrington, who was formerly a nurse. Mr. Emanuel died in December of 1979 in St. Croix, and his wife died shortly after in 1980. Their children are Helen Emanuel Sackey, James Camille, Charles Alexander, Asta, Dorothy Emanuel McBean, and Cleone Emanuel Jacobs. Ingeborg Emanuel Raymond and May Emanuel are children of previous unions.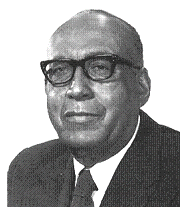 EVANS, MELVIN HERBERT Physician, Governor, Ambassador St. Croix 1917 - 1984
Melvin Herbert Evans has earned special recognition in the history of the Virgin Islands as the last presidentially appointed governor, the first elected governor, and the first Virgin Islander named ambassador to the island nation of Trinidad and Tobago. In addition, he has served as the territory's second elected Congressional Delegate and as Commissioner of Health.Born to Charles Herbert and Maude Rogiers Evans on Christiansted, St. Croix, August 7, 1917, he attended the local schools on St. Croix. After completing the tenth grade he traveled to St. Thomas to complete high school since schools on St. Croix did not offer a program extending beyond the tenth grade. In 1935 he graduated from Charlotte Amalie High School as Valedictorian of his class and four years later completed studies at Howard University, Washington, D.C., graduating magna cum laude. He continued his studies and by 1944 earned his medical degree, also from Howard University.He subsequently assumed full responsibility of the Health Department when he was appointed commissioner in 1959. He retained the position until 1967.

In 1969 Evans was appointed governor of the Virgin Islands following the inauguration of a Republican president, Richard M. Nixon, and the resignation of Governor Ralph M. Paiewonsky, a Democrat. With this appointment, he also gained the distinction of being the last appointed governor. He was inaugurated by William H. Hastie, chief judge of the Third Circuit Court of Appeals and the first Black governor of the Virgin Islands (1946-1949) and first Black judge of the U.S. District Court of the Virgin Islands (1937 - .Later in 1982, he was appointed U.S. Ambassador to the Caribbean nation of Trinidad and Tobago. He served in this capacity until his death on December 1, 1984.

Home Next